Receive Your FREE Personal Tarot Reading Now!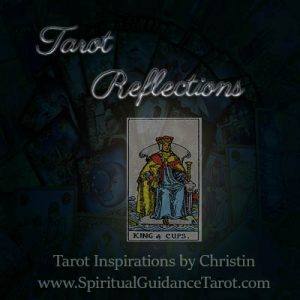 The King and Queen cards always speak of leadership, positive personal expression, but also working for the good of all around you. This particular King represents those who have deep emotional lives, sometimes complex/conflicting emotions that may need to be balanced so that more objective choices can be made.
When this King comes up he reminds you to work towards peace by making it a priority in your life. We can't always change our circumstances and other people will be who they are etc. however, we can choose to live an empowered life by recognizing our choices and how they affect us personally and also those around us. We can choose to pour our passion and emotion into a "good cause" and choose peace rather than succumb to anxiety, petty quarrels and the like.
Use your power to make wise decisions today. Avoid making any hasty choices and don't allow emotions to take over. This is a day for creative expression, and to create peace wherever you go. If little things act up, take a deep breath and press on 🙂