Know Thyself Tarot Reading for Personal Growth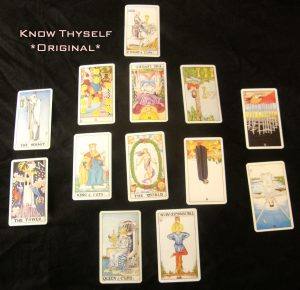 I designed this spread to "dig deep", and I use it myself when I find myself in a rut, or when I just want to challenge myself to reach my fullest potential. This reading is a fascinating look into our hidden desires and motivations, the things that subconsciously hold us back, a road map to our greatest natural strengths, and an action plan for our life's challenges.
Gain insight into your life path, your goals, and your greatest potential. This reading will make you think and will help you to grow and heal. It is currently one of my most popular spreads. My clients who have had it done have told me they have learned things about themselves that they weren't previously aware of and that it brought great clarity.
The Positions and Their Meanings
Position 1: Focus:
What life lessons are being presented to you at this time and where are you headed?
Position 2: Goals:
What areas of growth should you focus on now?
Positions 3 & 4 Strengths:
These positions highlight your natural talents, greatest achievments, and your strongest qualities.
Positions 5 & 6 Challenges:
These positions highlight areas of challenge, things to grow through, obstacles to continued growth , things that you may be doing to stand in your own way.
Position 7: Your Hopes:
highlights the dreams and goals you want to manifest for yourself
Position 8: Your Fears:
Highlights any insecurities, fears, self-doubt that may be sabotaging you
Position 9: Hidden Dreams:
This position highlights goals and aspirations you may not even realize you have, hidden talents etc.
Position 10: Hidden Truths:
This position highlights things that you may be avoiding, or things that you need to be more aware of in your present circumstance(s)
Position 11: Action Plan:
What steps can you take now to promote further growth and to make use of your fullest potential?
Position 12: Meditation & Reflection:
This card is used to combine the wisdom of all the other cards into working affirmations and visualizations to keep you focused and encouraged.
Position 13: Summation:
summary of the combined message of all the cards in the previous positions.
Price: $15.95
Ordering a Reading? Please Read the Following…
Please Include your name and email (if different than the one you are paying through with paypal) If you choose to share any info the place to do this is on the Paypal payment screen in the comment box.
Please be sure that my email address Christin @ spiritualguidancetarot.com is on your SAFE list so that your reading gets to you.
There is a wait of 3-5 business days on average for most email readings because I do all readings with an actual deck of cards and not a software package. Quality takes time – but it's worth it! **Please note a reading should never take longer than 1 week to receive. If it has, chances are the payment was lost or the email was filtered etc. Contact me directly and we'll resolve it.
If you have questions about readings and how they work feel free to contact me ahead of time and ask.