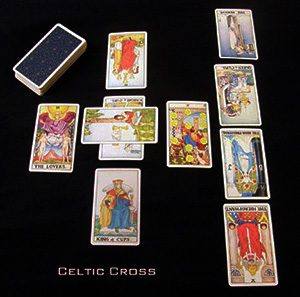 Celtic Cross Tarot Spread
Whether you are looking for penetrating, specific insight into a specific situation, or for overall guidance on your path this highly versatile spread is always a good choice.
This traditional 10 card spread can be used as a general reading or focused to look deeply into a specific area of concern. I find this reading to be most effective when focusing on a particular area of the querrents life within a short time range of present and passing to the near future (3-6 months).
If you would like to order an in-depth personal reading using this spread; I am happy to do it for you. Please include the area you would like your reading to focus on, ie work, relationship, life decision or simply say "overall outlook" for a general reading.
The Positions and Their Meanings
Position 1: Focus:
This card gives the background and shows the querrent's current situation
Position 2:Forces for or Against You:
This card shows the energy around the present situation.
Position 3: What Motivates Your Concern:
This card basically tells why you asked your question in the first place, explains concerns being faced, etc.
Position 4: Present & Passing:
This card focuses on influences that may be presently felt, but are in the process of passing out of your life, or will be soon.
Position 5: Free Will Card:
Forces that may manifest in the future, depends on how you handle the situation and the decisions you make.
Position 6: Near future influences:
This card indicates what is likely to manifest in the near future based on current conditions and past actions
Position 7: Hopes & Fears:
This card gives a deeper look into the psyche of the querrent by pointing out both initiative and obstacles.
Position 8: How Others View Your Situation:
Gives insight into how the querrent comes across to others involved in the situation.
Position 9: Course of Action Card:
This card explains what you must get through or manifest to reach a successful conclusion.
Position 10: Outcome:
Weighing the meanings of the other cards this card gives you a summation and points to a likely outcome to the situation.
Price: $12.95
Ordering a Reading? Please Read the Following…
Please Include your name and email (if different than the one you are paying through with paypal) Also, please include the first name of the other person and the type of relationship it is on the payment screen in the comment box.
Please be sure that my email address Christin @ spiritualguidancetarot.com is on your SAFE list so that your reading gets to you.
There is a wait of 3-5 business days for most email readings because I do all readings with an actual deck of cards and not a software package. Quality takes time – but it's worth it! **Please note a reading should never take longer than 1 week to receive. If it has, chances are the payment was lost or the email was filtered etc. Contact me directly and we'll resolve it.
If you have questions about readings and how they work feel free to contact me ahead of time and ask.