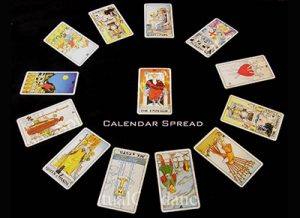 Yearly Forecast Tarot Reading Calendar Spread
This spread is a wonderful way to get an idea of forthcoming lessons and wisdom for the year ahead. Notice patterns, avoid potential stumbling blocks and make the most of upcoming opportunities.
The Positions and Their Meanings
Position 1: Significator:
This center card serves as an overall theme for the year ahead and shows the general trends and directions surrounding the coming year.
Positions 2 – 13:
A card for each month that highlights the year ahead, starting with the present month. As the reading progresses trends and patterns emerge that can help you make the most of opportunities and avoid potential pitfalls.
Price: $13.95
Ordering a Reading? Please Read the Following…
Please Include your name and email (if different than the one you are paying through with paypal) Also, please include the first name of the other person and the type of relationship it is on the payment screen in the comment box.
Please be sure that my email address Christin @ spiritualguidancetarot.com is on your SAFE list so that your reading gets to you.
There is a wait of 3-5 business days for most email readings because I do all readings with an actual deck of cards and not a software package. Quality takes time – but it's worth it! **Please note a reading should never take longer than 1 week to receive. If it has, chances are the payment was lost or the email was filtered etc. Contact me directly and we'll resolve it.
If you have questions about readings and how they work feel free to contact me ahead of time and ask.